Introduction
One thing that people across all ages dread are gum and teeth problems. Doesn't matter if one lives to eat or eats to live or is just conscious about their appearance, slightest discomfort makes it difficult to get through the day. Some of the most commonly encountered mouth problems involve bad breath, plaque, bleeding gums, tooth decay or cavities, and stained, yellow teeth. It is important that one gets the above troubles treated as soon as they set in as they can lead to some ugly, undesired effects. One can either be careless and only become careful after facing these troubles or be precautious and maintain their oral health by employing herbal dental products in their daily routine. After all, it is not very pleasant to have a toothless smile once you are a full-grown adult!
Laung – The Age-Old Remedy for Dental Troubles
Laung or Clove extract has been widely used to attain instant relief from toothache. Clove works as a natural anesthetic and an antiseptic. This is precisely due to the presence of eugenol. As per certain studies, eugenol has been rendered as the most effective analgesic than any other when it comes down to oral surgeries and tooth extraction. Due to eugenol, clove extracts numb the problem area providing instant relief.
It is necessary to monitor the use of clove extracts as a remedy for toothache as its excess can lead to certain unpleasant effects. Therefore, an easier alternative to the above tedious task is to use natural, herbal toothpastes, tooth gels, or tooth powders that are infused with clove extracts. LooLoo brings you the perfect combination of potent herbs and clove extracts in the form of dental gel and tooth powder that relieve you from not just toothache, but other oral health troubles too. This fuss free use of clove delivers benefits without any side-effects.
LooLoo Herbal Dental Gel Laung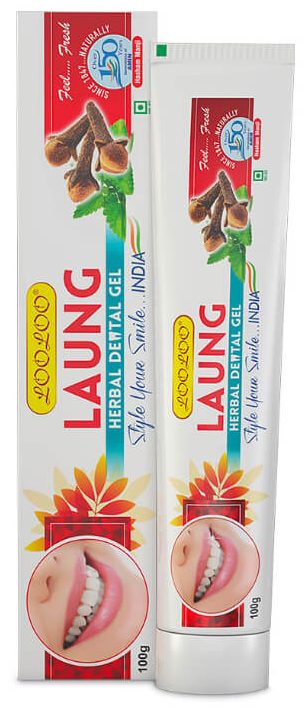 LooLoo Herbal Dental Gel Laung is 100% vegetarian dental gel that is free from parabens, fluoride, and triclosan. It contains eugenol which is extracted from the finest Zanzibar cloves. The effects of eugenol are amplified with a combination of herbs perfect to maintain oral health.
LooLoo Herbal Medicated Tooth Powder Laung contains:
Laung– Powerful analgesic, antibacterial, antiseptic, and anti-inflammatory.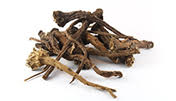 Aqarqarah – Stimulates saliva production and soothes masticatory muscles.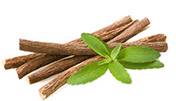 Mulethi – Contains antibacterial substances, Licoricidin, Licorisoflavan A, and Glycyrrhizin.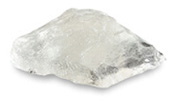 Alum – Being an astringent it tightens the gums around the teeth.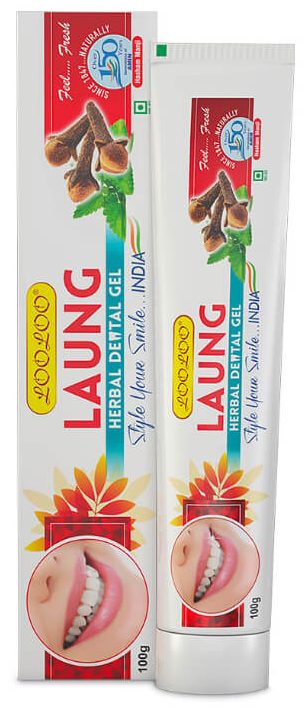 Owing to its ingredients, regular use of this gel benefits in the following ways:
1) Curbs pyorrhea,
2) Relieves toothache and gum inflammation,
3) Removes tooth stains
4) Diminishes plaque buildup
5) Prevents gums from receding and bleeding,
6) Eliminates bad breath,
7) Prevents dryness of mouth
8) Kills all forms of bacterial growth.
LooLoo Herbal Medicated Tooth Powder Laung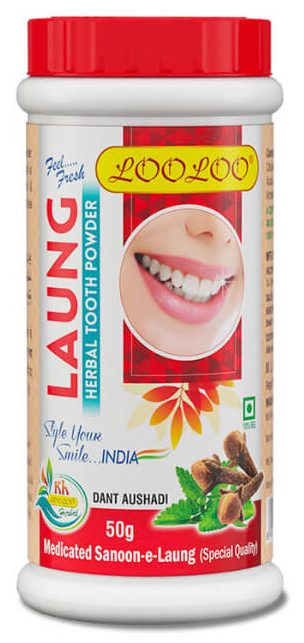 LooLoo Herbal Medicated Tooth Powder Laung is highly refined,100% vegetarian, and devoid of any impurities. With extremely smooth, fine texture, the powders exhibit an abrasive effect, scrubs away any bacterial buildup from teeth and gums.
LooLoo Herbal Medicated Tooth Powder Laung contains:
Laung – Contains eugenol which exhibits an analgesic and an antibacterial effect.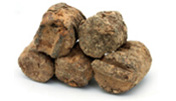 Kattha – It is an antibacterial and an anti-inflammatory that attacks bacteria.
Geru – It is a rich source of iron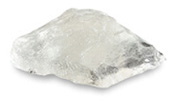 Alum –Works as an abrasive which is gentle on tooth enamel and harsh on stains and plaque causing bacteria.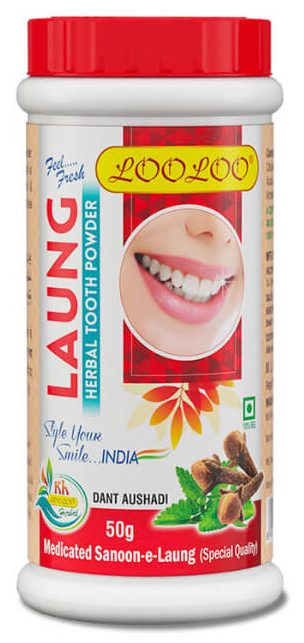 Regular use of this tooth powder delivers the following effects:
1) Strengthens teeth and gums
2) Removes stains
3) Scrubs away plaque buildup
4) Controls pyorrhea
5) Fortifies teeth and gums with iron to fight bacteria
6) Alleviates toothache and gum inflammation
7) Prevents oral infections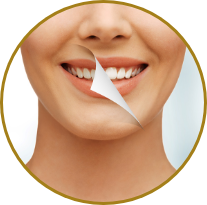 Massage well on teeth and gums twice a day using a toothbrush or your finger. Leave the tooth powder on for at least 2 minutes. Finish off with a gargle of lukewarm water.
For extra efficacy, it is recommended to use the dental gel along with the tooth powder. After you brush your teeth with LooLoo Herbal Dental Gel Laung, massage your teeth with LooLoo Herbal Medicated Tooth Powder Laung.